Salesforce Acquires Tableau
Here at Cloud Notions we are huge fans of both Salesforce and Tableau.  So this week's announcement that Salesforce had agreed to acquire Tableau was met with great fanfare and celebration.  But what does this all mean for existing Salesforce and Tableau customers?
What is Tableau?
Haven't heard of Tableau?  You've been missing out!  Tableau allows a level of reporting that exceeds both Salesforce Reporting/Dashboards AND Microsoft Excel.  Here's a very small sampling:
High Hopes
Disclaimer: I am not an insider and this post should be considered speculative!
Disclaimers aside, I expect huge things from this acquisition.  And, judging from the $15.7 billion dollar price tag, Salesforce has high expectations as well.  Large acquisitions aren't new territory for Salesforce; just look at Pardot, Exact Target, Mulesoft, and Demandware.
I'd expect to see tighter integration between SF and Tableau.  The existing Tableau-to-Salesforce connector has some limitations.  For example, SF formula fields can't be used in Tableau.  I'd love to see this change in the future.
I don't think we'll see any form of bundling.  Tableau will continue to operate independently under their existing brand.  Even after the merger of sales and operations teams, the product will likely be sold independently.  A good example would be Pardot: even after the acquisition, it's not a bundled feature of Sales Cloud or any other product.
What about Einstein Analytics?
Salesforce had invested heavily in their own analytics tools, from Standard Reports to Lightning Reports to Wave to Einstein Analytics.  My initial thought was that Tableau would become the ultra-premium tier of analytics.  However, Tableau was/is a direct competitor to Einstein Analytics…and cheaper.
However, Einstein Analytics does have one ace up its sleeve: predictive analytics.  Using AI and complex modelling, Einstein Analytics could help draw conclusions that might not have been found by a Tableau novice.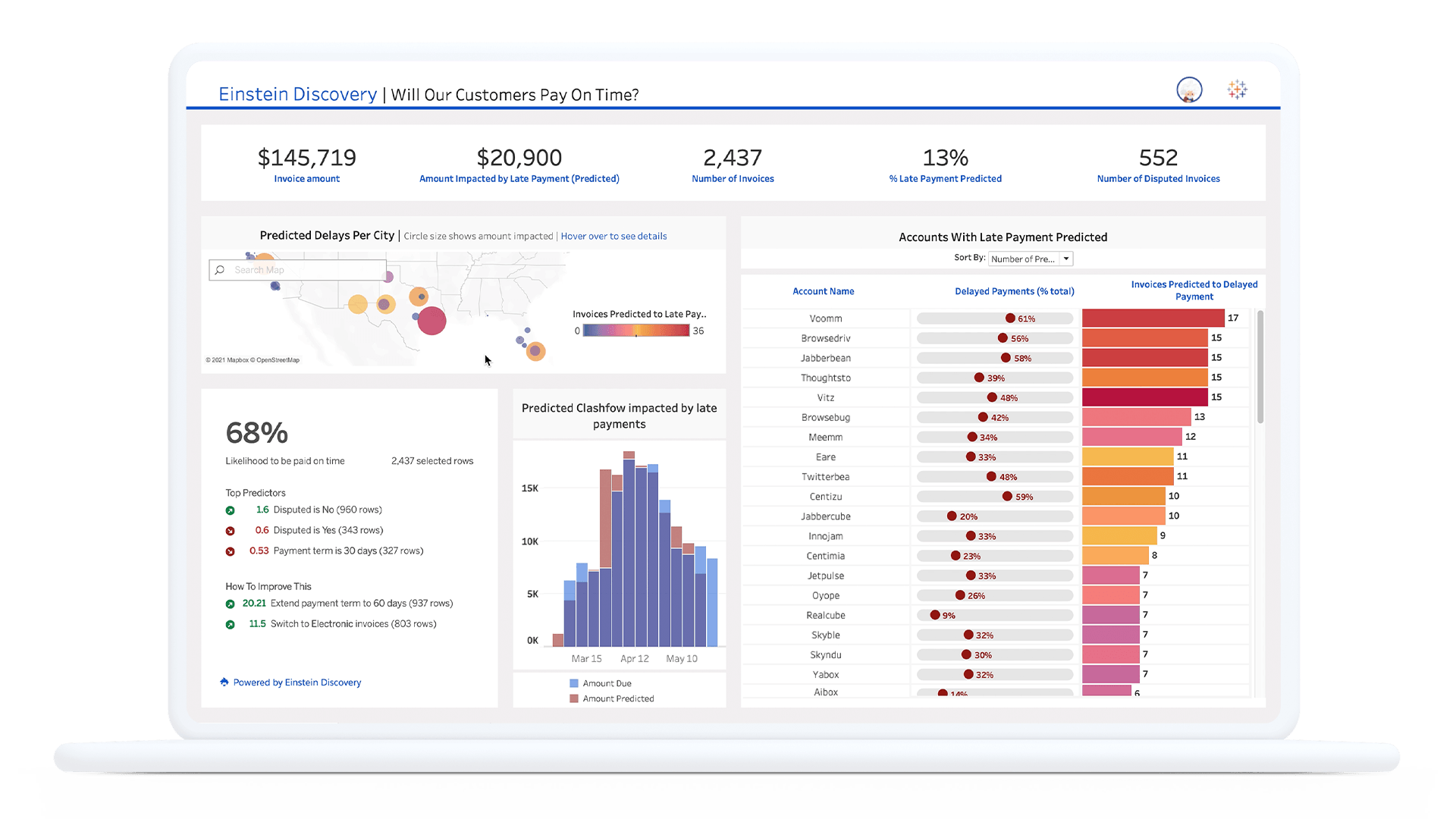 In a perfect world, I'd love to see the foundational features of Einstein Analytics be incorporated into the standard Salesforce reporting.  Lightning was a nice improvement to SF Reports and Dashboards, but data visualization is a bit of an arms race.
Need assistance in maximizing the standard Salesforce reports, Einstein Analytics, or Tableau?  Contact us today!